Around the World in 90 Days: The Mixteca & Mazahua Tribes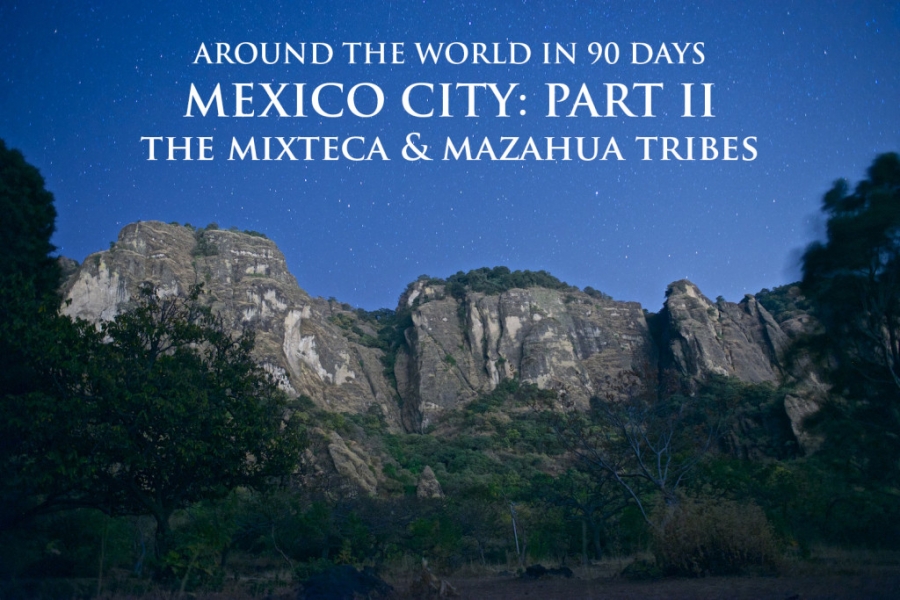 I've started to realize that meeting and photographing different cultures and subjects with diverse belief systems can broaden one's spiritual and cultural horizons much more rapidly than just studying them from a distance at home.  It might be a cliché to say this, but I really feel that it's easy to become jaded when we grow up in a Western Culture — and, even worse, not even be aware of it.  The last part of my stay in Mexico really made me realize that. One of the many events I shot in Mexico was an indigenous rights conference. It was held at the Congressional Building of Mexico.  During the proceedings, a short, dark-skinned man wearing traditional tribal clothing approached me.  He introduced himself as Lobo Blanco, and as we talked, I learned that he was from an indigenous tribe called the Mazahua. He seemed excited to hear that our tour was concerned with human rights, and he invited us to a private event at what he described as a sacred temple, which I later learned was Templo Mayor. I was more than happy to accept the invitation, secretly excited about the opportunity to meet the other tribe members.
The next day we met Lobo Blanco near an old Catholic Church. Lobo mentioned that although he was Mazahua and the temple is Aztec, the site is still enormously important to his tribe. His ancestors had stood where he was and paid tribute to the most influential and powerful people in Mexico at the time – The Aztecs. He also explained that the Aztecs had built the enormous temple over 400 years ago and that over several centuries they continued to build layer upon layer of it until it reached what it is today: 7 temples, each one built on top of the last. From what I understand, The Spanish didn't necessarily appreciate the brutal nature of the Aztecs when they arrived, and in their religious crusade they buried the temple and built their church on top of it, profoundly affecting other tribes such as the Mazahua and Mixteca. Templo Mayor sat steeping in the Earth, rich in history and waiting to be rediscovered until quite recently when city electrical workers inadvertently turned up a large stone disc depicting Coyolxauhqui, the Aztec moon goddess. Efforts to uncover it have been underway ever since — and as Lobo showed me around the ancient temple I could see the immense archaeological construction and scaffolding taking place.
After spending three hours with the tribes at the conference in Templo Mayor discussing a variety of topics, I went looking for Lobo Blanco. I wanted to photograph the man heading the conference. This was Lobo's Chief and the leader of the Mazahua – a man named Abuelo. I found him standing in front of an intimidating wall, one fashioned entirely of stone skulls.  Lobo explained that Abuelo felt it is was no coincidence that we were able to be there that day, and that he felt the Gods had blessed our journey.  I let this soak in, and after some time I asked if Lobo thought Abuelo would allow me to photograph him.  Lobo nodded lightly, and I took him for his word on it. No more than an hour later, the tribal meeting adjourned and the chief showed up outside of Templo Mayor dressed no differently than one of his ancestors, who I would have seen 500 years ago standing in this very place. Despite the sun being past the horizon and having darkness approach, I was thrilled.
In the process of setting up gear, the bulb on my X1600 Lightning made an unfamiliar pop while test firing and died; upon inspecting it I discovered that the entire bulb exploded. After quickly rummaged through my pack I found a small SB-700 Speedlight. I enlisted the help of one of the tribe members and my guide Francisco to form a makeshift light stand with the speedlight inside of a heavily used 48″ Octobox and with some tinkering done – we started shooting in the dark.
Although I intended only on photographing the chief, I looked over to find a number of tribe members eager to have their portraits taken as well — and before long I found myself photographing not only Abuelo's wife and Lobo Blanco, but many members of different tribes. My favorite image by far was of Cuervo, a Mixteca Shaman with a great sense of humor.  "Cuervo" is the Spanish word for crow – a name given to him by his father because of the darkness of his skin and his curious nature as a kid.
After the shoot I should have been really excited, but I couldn't help but feel a bit of sadness leaving everyone. I definitely intend to return and visit Lobo, Cuervo and the others in their villages outside of the city. Listening to the stories and viewpoints of each of the indigenous Mazahua and Miexteca I met in Mexico was immensely humbling. I feel that diving in and experiencing their world first hand is the only way to truly understand the issues they've brought to light.
– Kevin Garrison
Special Thanks:
Once again, my incredible hosts Francisco Cisneros & Erika Montana. Thank you both for all your generosity and kindness. To Borrowlenses.com for literally saving my ass and shipping out a brand new flash and bulb mid-tour, to a different country. Assistants: Francisco Cisneros & Aaron Loranca
Gear Used:
Camera: Nikon D600 (Replaced by D610) Lens: Nikkor 85mm f/1.4 Prime Light: Nikon SB-700 Speedlight Modifier: 48″ Octabox Diffuser